Preparations for Nakayla's full month celebrations started from when I entered my third trimester. I had toyed with ideas of what I would do for the gift pack (to order or put my own together), where to hold the celebrations and who to invite.
My greatest focus was on the gift pack. It's the one thing I put the most effort in for all my parties (the door gifts/party favors). After all, my guests will bring it home and might show it off to their family and friends!
After scouring the internet on all the different types of full month packages available, I found none to my liking. It was either not value for money, or contained things that I didn't really fancy. So I decided to put together my own full month gift pack, just like I did for Blake's full month celebrations. I must have thought the same back then. Haha.
For Blake's full month celebration, I put together gift bags with items ordered from two different companies. I had ordered Pulut Inti and Ang Ku Kueh from a nonya kueh factory, ordered some cakes and tarts from a bakery, and had my mom's help in making the red eggs. It was pretty traditional.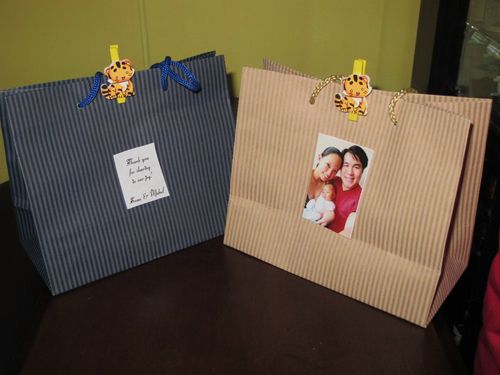 These gift bags contained the Pulut Inti, Ang Ku Kueh and red eggs.
The cakes and tarts were in a separate bag.
I had no intentions of ordering from the same nonya kueh factory for Nakayla's full month celebration as I was very unhappy with the items delivered for Blake's full month. They were so tiny and pathetic looking. On top of that, the ang ku kuehs looked nothing like the ang ku kuehs we typically see. It was just a tiny cone-shaped kueh! Honestly, I was pretty embarrassed by it. Luckily, the cakes and tarts were bigger in size and portions (delicious too!). But I could not order from the same bakery for Nakayla's full month. They were closed for renovations and I had absolutely no idea when they would reopen for business.
So for Nakayla's full month, I decided to try something new. Considering I will be having help around (my confinement nanny), I decided to buy and make some of my own stuff to put together in the gift box! I had also found rose and ang ku jelly/baking molds, so it was all in good timing!
First, I tried baking blueberry cakes in the rose molds, but they turned out smaller than expected, for some odd reason. Then I tried making Konnyaku jellies, but those with fruits in them begin to melt when I left it out for an experiment.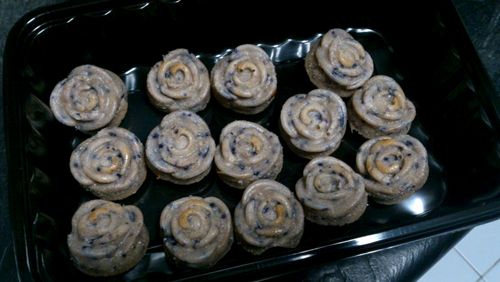 After I decided that the cake and jellies were out, I tried making chocolates out of the ang ku moulds. But I only managed to try this out a week before Nakayla's full month celebrations as I had given birth earlier than I expected. I had totally expected her to arrive on her expected due date!
Anyway, the chocolate ang kus were rather successful, and I got better at making them towards the end. I had made them in tiny batches, each with a different method, so they all turned out a little differently.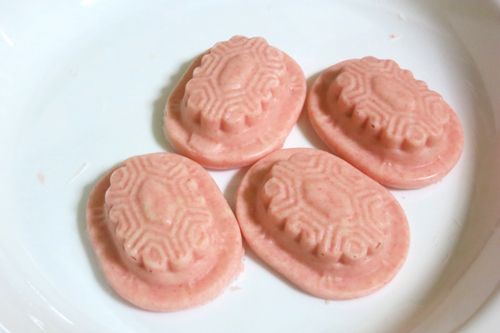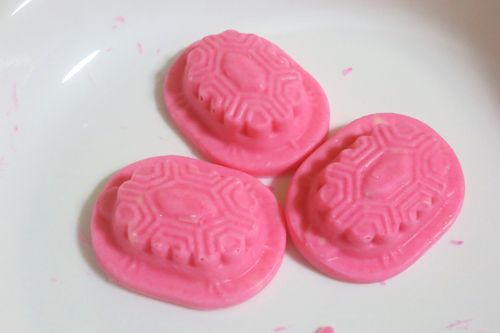 In the end, I decided to bake mini muffins and outsource the more traditional items - Ang Ku Kuehs and Glutinous Rice. I had ordered them from another nonya bakery, and I must say, I'm mighty pleased with them! :D
As for the chocolate ang kus, they were given out to friends and colleagues who were not able to attend the full month celebrations, but sent their well wishes and gifts anyway :)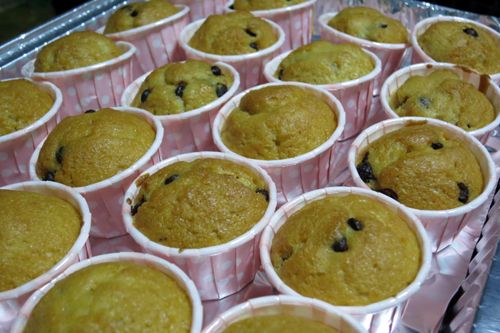 Mini muffins I baked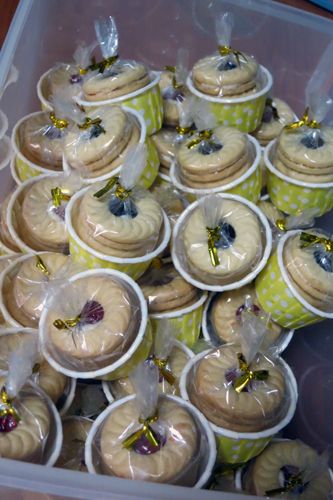 Packed one of my boy's favourite biscuits in too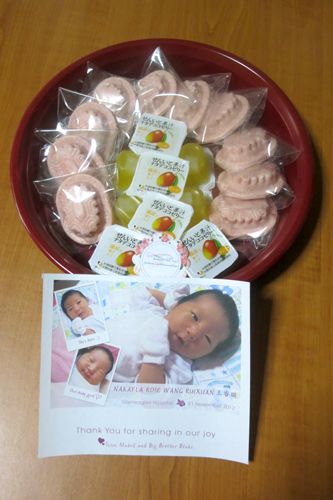 Something I put together for Blake's school teachers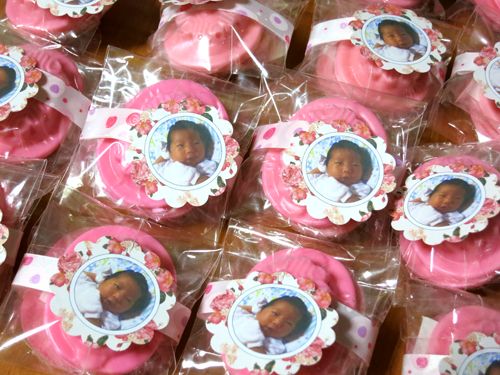 All packed and ready for friends and colleagues

Besides putting together the gift box, I also designed the birth announcement cards!
Blake's birth announcement card was designed when I was still in confinement. It was the first time I was doing something like that and I had to do a lot of research, and I went through a couple of designs before I was satisfied. His birth announcement card was actually a 4R photo. Haha.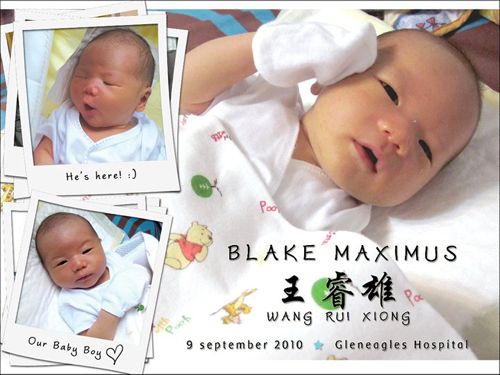 Nakayla's birth announcement card, on the other hand, was really just a sticker and the design template was already all done before I gave birth. Haha. It was much easier this time round because I had made up my mind to use a similar design, just tweaking a little here and there as the size and usage will be different from Blake's. Nakayla's birth announcement sticker was used to seal up the gift box!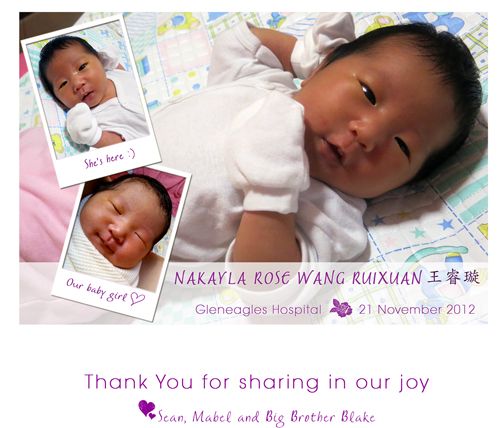 That's just about all the preparations I had done for the gift boxes. Next post will be on the actual event!