Friday, 20 July, marked Blake's first observance of Racial Harmony Day, and for me, from the parent's perspective :D
On Tuesday, 17 July, I was informed by Blake's preschool via email that the school was going to celebrate Racial Harmony Day on the upcoming Friday, 20 July, and they hope to have every child attend school in traditional costume. I panicked. I only have 2 days to find a traditional costume for Blake, and I'm really picky when it comes to clothes! I even complained to Sean that the school should have given at least a week's notice so that we can go hunting for these costumes!
The very next day, after my appointment at the gynecologist, I met up with Sean near his work place for lunch, and to look for the traditional costume in the area together until he had to return to work.
I then made my way to Bugis Junction to continue my search. I did not have much luck there, though I managed to shop for the husband. Haha. After which, I made my way to Century Square after calling the Kiddy Palace outlet there to check if they still had traditional costumes for sale – I remember seeing some when I was there recently. The moment they said, "Yes, but limited stock", I rushed over!
When I reached, I frantically looked for Blake's size, only to find that they came in XS – M sizes, instead of sizes by age like 18 – 24 months, 2Y, 3Y etc. I was at a complete loss as to which size I should buy! The shop assistant advised me to get size S, but it looked too big to me, so I bought size XS instead.
When Blake tried it on that night itself, it fitted so well, he couldn't move his neck after all the buttons were put together. Sigh. I should have listened to the shop assistant!
So the next day, the moment the store opened, I went to get it exchanged for size S. Fortunately, my boy fitted size S well, with space to grow into (hopefully, he will still be able wear it for the next Chinese New Year!), and there were a couple of size S left on the rack. The other big sizes were sold out overnight! Phew! Looks like I'm not the only parent rushing to buy traditional costume for their children for Racial Harmony Day! Hehe.
And now, pictures! :D
Good morning, sunshine!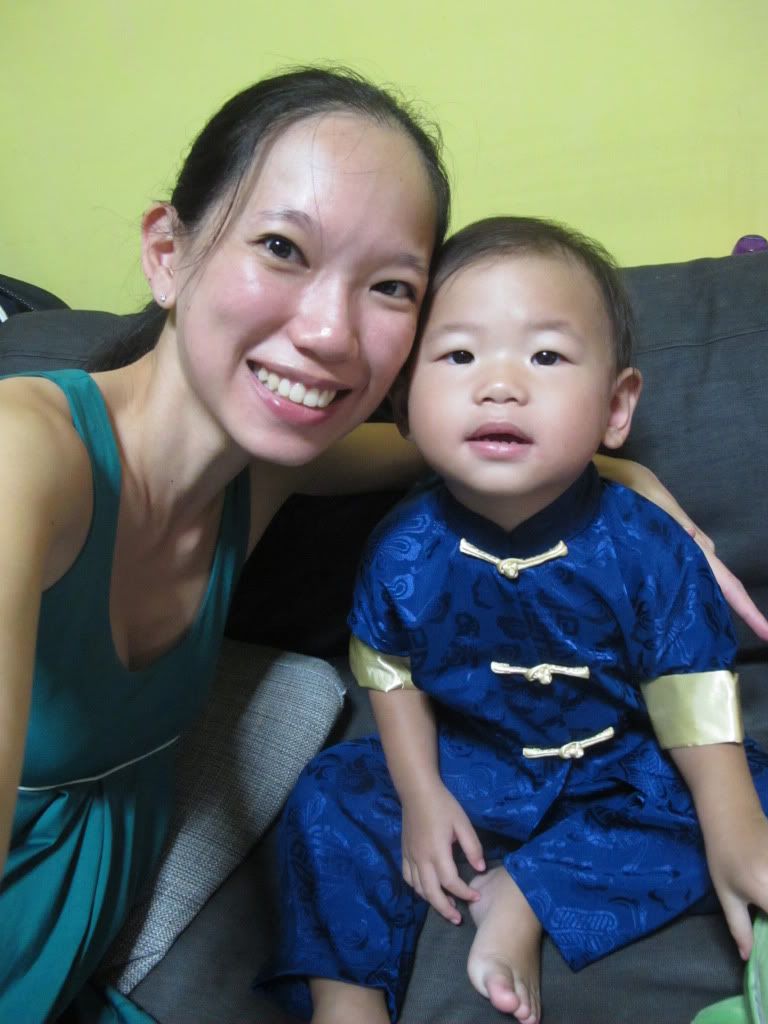 One more before leaving for school! :D