The earlier post ended with us reaching his preschool. Read all about it
here
.
*wordy post ahead as I was not able to take photos during the time I spent in the school.
After saying our
thank you and goodbye
to my dad, we entered the school gates. A lot of children were already there having their breakfast and morning exercise.
Blake clamped up the moment two teachers came out to receive us. He refused to let them take his temperature, or even look at them! One of the teachers helped remove his shoes, and I carried him in. We went into his class, where most were having their breakfast.
His Chinese teacher, 蒙老师 (Ms Meng), told me to pass him to her so as to help ease the transition of joining the school. She carried him, spoke to him, and basically pawed over him like a loving mother would to her own child. It made me feel safe, knowing I chose the right school for my son.
She noticed that Blake was about to start crying any time, and tried to distract him with toys in the classroom. I told her to use the pacifier in his bag when necessary, as it was the only comfort item I brought along. When he rejected one toy after another, she continued to take more to distract him with. She never stopped trying. Eventually, Blake could not hold back any further. He burst out crying really loudly, but 蒙老师 did not flinch. She immediately tried to calm him down. No, she did not attempt to shake my boy at all to calm him down. All efforts were futile because Blake really wanted me to carry him. I went to take the pacifier out, and gave it to him. That calmed him down quite a bit, and I thought I could go settle all the paperwork during this period. Alas, the moment I stepped out of the classroom, Blake burst out crying again.
Even after I got into the Principal's office, I could still hear Blake crying loudly. At one point, I asked if Blake caused another child to cry (for some reason, some children will cry when another cries), cos it sounded like there were two children crying. And the reply I got, "Erm, no. It's just Blake crying." Oh my! That's some loud crying my boy was making!
I quickly got the paperwork done, had them check and make sure I could make my way out without Blake noticing me. I sneaked a peek at where he was (he couldn't see me), and was relieved to know that he has stopped crying. They had assigned another teacher to take care of him (one-to-one), while the rest continued with their normal lessons. I then left to run some errands, while being on standby to bring Blake home.
About an hour later, the school called, and the teacher (sorry, haven't gotten all their names!) told me that water play was cancelled due to an activity that had to be done! I was so shocked, cos I have been telling Blake that there will be water to play with at his school, on the first day! But she quickly told me that they have filled the outdoor pool with some water for Blake to play with, and though hesitant at first (he was wondering why he was the only one playing), he soon became very happy, and even attempted to go swimming in his school uniform. She then told me that I could leave Blake there till at least lunch time.
For the next hour or so, I received no phone calls, so I called to check instead. The teacher who picked up my call told me that from the time he played with water till shower time, Blake did not cry at all, and he had half a bowl of chicken rice for lunch! :D
The crying cycle started again when they showered for him, but they said the cries were much softer now. They then said to try to push the pick-up time till after nap time.
During this period, I went home to rest and have my lunch. On my way back, I received an sms from 蒙老师.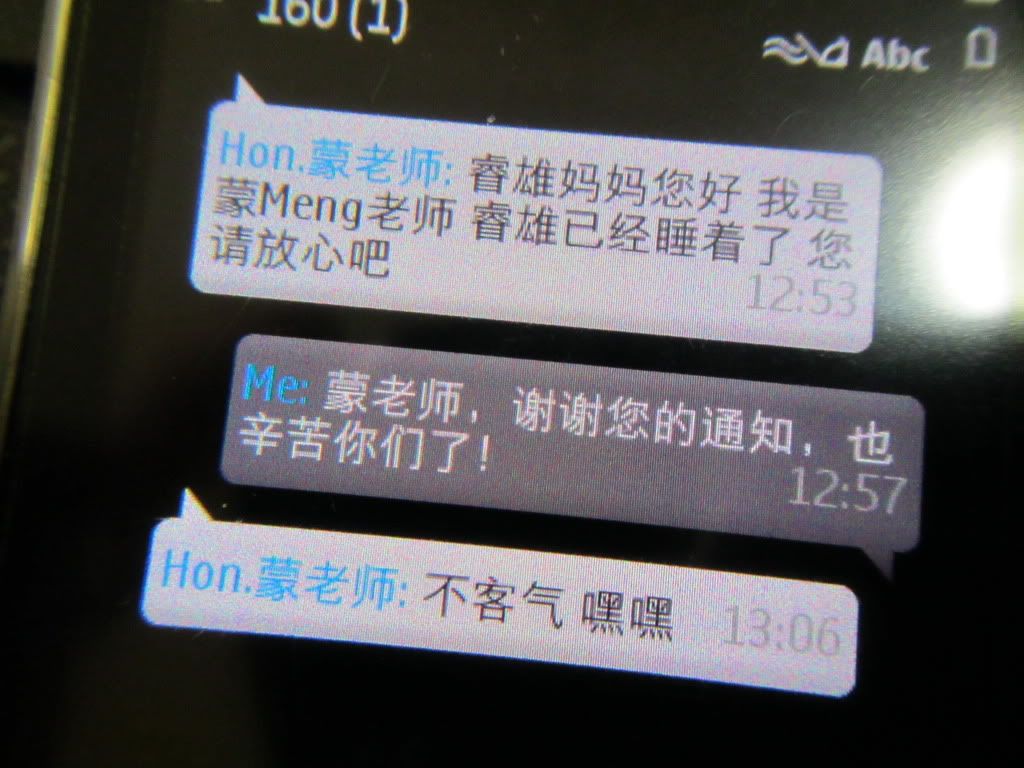 She told me Blake fell asleep immediately, so I have nothing to worry. About an hour later, she messaged me again, and said that I should pick him up after nap time. She was afraid that if we push our luck further, Blake might dislike attending school. So I quickly had my lunch, took a short rest, and headed down to the school to pick my boy up!
When I got to the school, most of the children had already woken up, and I heard no crying! When I walked in, Blake heard my voice, got up from his seat, and ran towards me to hug me. Very rare! He usually teases me, and would turn away without hugging me. Chasing behind him was the assisting teacher. She called after him in Chinese, "I haven't cleaned your mouth!" She came forward to cleaned his mouth for him, and told me that he cried when he woke up, and she gave him a piece of bread, thinking he might be hungry. He was halfway through the bread when I arrived, so I guess he was hungry. All of them then gave me a full report of his progress, with 蒙老师 telling me that overall, he did pretty well for the first day of school :D
I told Blake to say thank you and goodbye to everyone, and he waved and said, "bye!!" before urging me towards the gate, but not before 蒙老师 passed me a parent-teacher communication book, and the father's day gift they made in school that day. (point to note: send child in just before mother's day so as not to wait a whole year for gifts from your child!)
We said goodbye again, and left. The whole way home, Blake was nothing short of amazing. He held my hand all the way, waited patiently at the bus stop for the bus, and walked the whole way home on his own! I only carried him up and down the bus! I rewarded him with a bubble bath, then we both fell asleep on the sofa shortly after. Hehe.

So proud of my boy. He managed 6 hours in school, on the first day, without throwing a single tantrum (crying is different)! Yup! That's what the teachers and staff all said :D